After a modest hiatus I am back. For now. Or, as Groucho Marx said "Hello, I must be going!". In other words, I have resumed writing the blog to keep everyone up on the latest adventure. One week from today, if all goes according to plan, I should be in Managua, Nicaragua, en route to the village of Sasle which is located in the department (state/province) of Jinotega.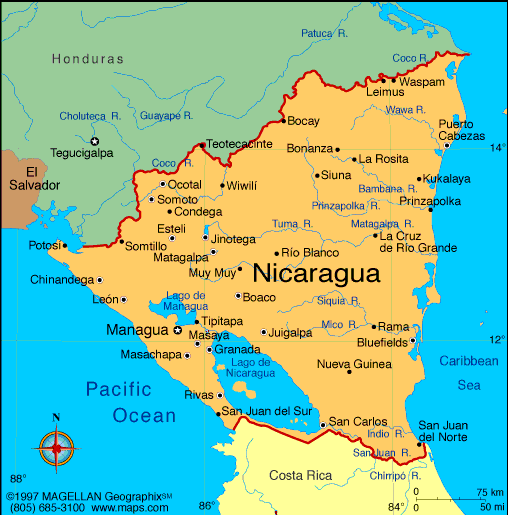 For a quick geography lesson, Niaragua is part of Central America (the question of which continent is Central America a part of is a rather complex one, beyond my space to answer). It is located north of Costa Rica and south of Honduras. The large body of water located in the southwest of the country is Lake Nicaragua. Nicaragua was once among the sites being considered for a transoceanic canal, but lost out to Panama for a number of reasons. One of the reasons in favor of Nicaragua was the ability to use Lake Nicaragua as part of the canal system: from the Caribbean side a canal could be cut to the eastern side of the lake and then a short canal could connect the western side of the lake to the Pacific, all at sea level. Reasons against Nicaragua was the presence of active volcanoes within close proximity to the proposed route.
The idea of a Nicaraguan canal was resurrected in 2013 and initial work, funded by China, was supposed to commence this year. The collapse of the Chinese economy has put these plans on indefinite hold.
Anyways, our EWB-RPI group bid on a project in the village of Sasle to take over a latrines project that was originally started by a group called Bridges To Community. For reasons that are not entirely clear to me, BTC has asked to be relieved and we have agreed to evaluate the situation. For a number of reasons the latrines project has been conjoined with biodigesters both to dispose of the waste and to serve as a source for biomethane as a source of fuel. We shall see so stay tuned.
Additionally, I am also involved with winding down the Panama project (come January) and am now starting a new project which is an outgrowth of that project. Chip Kilduff and I have been awarded a small NSF I-Corps grant to evaluate whether we could scale up the rain harvesting concept we employed in Panama and turn it into a commercial venture to export a bottled water product to the US in a not-for-profit venture to then develop water infrastructure in the Bocas del Toro region of Panama. It is a very intense and competitive program aimed at fostering business acumen for science/tech people. We have rounded out our crew with my great friend Ben Rounds (Jr) for our solar and electrical aspects and the mentorship of Jeff Olson. Please check out our Facebook Page under "Aquasphere Water Group". And keep reading here - I will provide more details in the week to come and try to hit the ground running.